basICColor IMProve3
Software for intelligent correction, optimization and processing of measurement data and creation of measurement charts
basICColor IMProve is a software solution for intelligent optimization and processing of color measurement data. In many situations measurement data are not perfect for ICC profiling and thus result in ionferior profiles. Erroneous measurements can result from problems in printing, inhomegeneities or just errors in reading the patches. In other cases you might want to average measurement date before you create profiles (e.g. with basICColor print). That´s where basICColor IMProve comes to the rescue.
basICColor IMProve is a collection of various tools under one hood: Correction for the effect of optical brighteners, TVI corrections, gradation changes in order to meet standards like PSO or G7 – measurement data correction that leaves nothing to be desired! The quality of ICC profiles is only as good as the data you feed in. Analyzing and optimizing these data results in a better profile quality and thus in a higher reliability of the production process. Insofar basICColor IMProve complements any profiling software in the market.
---
Intelligent Automatic
In 'Automatic' mode basICColor IMProve analyzes measurement data in an intelligent way and performs the necessary corrections automatically. Correcting, smoothing and optimizing color measurements has never been easier.
---
Optical Brightener Correction
A slider allows for a continuously variable correction of the effect of optical brightener agents (OBAs) in spectral data. If you set the slider to max, the result is similar to a measurement with a UV-cut filter.
---
Comprehensive Report
A detailed PDF report shows all the results of the analysis, depicts the data graphically and gives tangible recommendation for the futher correction process.
---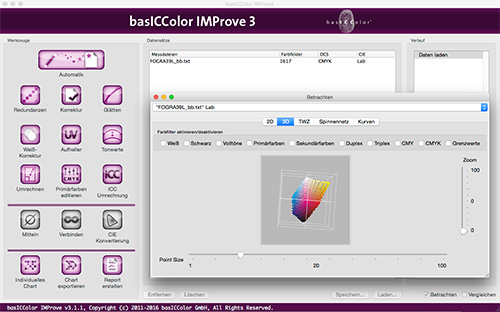 Functions
Software for intelligent optimization and processing of measurement data
'Automatic' button for intelligent analysis and correction of measured data
Various tools: removal of redundant color patches; correction of erroneous readings; data smoothing; optical brightener correction; dot gain adaptation; black point correction; white point editing; averaging of measurement data; NEW: Editing of primary colors; NEW: Creation of individual measurement charts
Measurement data visualization in 2d or 3d; comparing the data visually and statistically; visualization of the dot gain
Detailed PDF report
basICColor IMProve is available in two versions:
- basICColor IMProve: for standard printing processes and color spaces
- basICColor IMProve, MC Modul: for packaging and multicolor applications
Minimum System Requirements
Windows:
Windows 7 (32 - and 64-bit)
Intel® Pentium 4-Processor
512MB RAM, 100MB Available Disk Space, minimum
Graphic Card Supporting 1024x768 Pixel and 24 Bit Color Depth
Macintosh:
Mac OS X 10.6
Intel® Core-Duo-Processor
512MB RAM, 100MB Available Disk Space, minimum
Graphic Card Supporting 1024x768 Pixel und 24 Bit Color Depth