basICColor CMYKick2
Drag and Drop Profiling for CMYK Printers
It has never been easier to create ICC profiles for your desktop printer. We made the easiest to use CMYK printer (those printers driven with a RIP, not via printer drivers) profiler even better! Integrated into basICColor catch and with automatic measurement data correction, creating a perfect ICC profile for your printer is easy as pie! You can even create a profile with the unmatched basICColor gamut mapping from another profile, e.g. a canned profile that came with your printer, just drag and drop the profile onto the basICColor CMYKick icon – done!
---

Ease of Use
Stand-alone operation with drag-and-drop or integrated into basICColor catch.
As easy as 1,2,3! 1) drag the measurement data and drop it onto the icon or click "ICC profile" in the measure window of basICColor catch. 2) Name the profile or click for the default name, optionally check "Automatic profile optimization". 3) Your profile is ready to use!
---

First Class Quality
Highest level of accuracy from a cost friendly and user friendly investment. The technology is exactly the same as that used in basICColor print, our profiling flagship.
NEW! A checkmark in the "Automatic profile optimization" box will correct and smooth your measurement data and make for the best printer profiles you ever had.
---
Integration
basICColor CMYKick is seamlessly integrated into our measure software basICColor catch.
The other catch modules allow for quality control and statistical analysis of your proofs or prints.
NEW! With one click your basICColor catch measurement data will be passed on to basICColor CMYKick – enter a profile name or accept the default – done!
---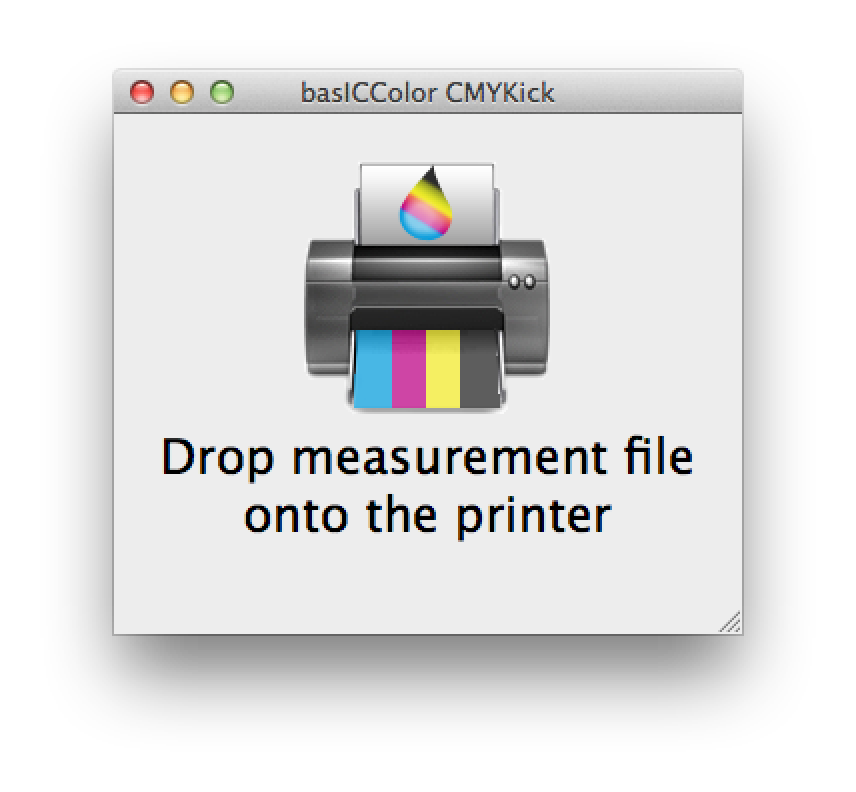 Functions
Software to create CMYK output profiles
Drag-and-drop operation
Seamlessly integrated in basICColor catch
Support for any CMYK profiling target (eg. ECI2002 or IT8.7/4)
Fully automatic and intelligent definition of TAC and black generation
Automatic profile optimization
The ICC profiles are immediately ready for use after creation

Minimum System Requirements

Windows:
Windows XP SP2, Windows 7 (32- u. 64-Bit), Windows 8 (32- u. 64-Bit)
Intel® Pentium 4-Prozessor
1GB RAM, 100MB Available Disk Space, minimum
Graphic Card Supporting 1280x1024 Pixel and 24 Bit Color Depth
optional: basICColor catch all – complete QC software package
Spectrophotometer
Macintosh:
Mac OS X 10.6 (Intel), Mac OS X 10.7, Mac OS X 10.8, Mac OS X 10.9
Mac OS X 10.10
PowerPC® G4-Prozessor, Intel® Core-Duo-Processor
1GB RAM, 100MB Available Disk Space, minimum
Graphic Card Supporting 1280x1024 Pixel und 24 Bit Color Depth
optional: basICColor catch all – complete QC software package
Spectrophotometer