Mirage Small Studio v19 ESD
Software is ONLY offered as download + TAN Code on our online store. For boxed or dongle versions please call 800-COL-RMGT x104
State of the art professional printing
MirageProfessional Print Solutions are milestones, defining new levels in print quality, ease of use and productivity. Mirage is developed, optimized and used by:
Photographers,fine-art printers, print service providers, graphic designers, marketing agencies, layout designers, packaging designers and professional amateurs.
Mirage offers professional and "Prosumer" functionality, all at a cost-effective price point.
Real performance, no hidden costs
The intuitive Mirage user-interface enables you to work fast and efficiently. As native plug-in Mirage offers everything, as it should be: smooth and perfectly scaled gradients, fonts and embedded vector graphics. Mirage comes as plug-in for: Adobe© Photoshop©, Adobe™ Photoshop™ Elements, Adobe™ InDesign™ and Adobe™ Illustrator™or as a stand-alone droplet based application.
There are no hidden costs for different printer-sizes, Mirage allows printing to different printers at the same time. Last but not least: We offer a very fair upgrade policy when it comes to upgrades and cross-grades. OurEdition series as well as our Extension series offer a modular, cost-effective approach to expanding the products functionality.
What you see is what you get
Mirageis both, significantly optimizing and simplifiying your printing workflow at the same time. Get rid of wasted media caused by "trial & error" techniques from the past. The Mirage preview window shows exact print results.
Manage your Print Jobs
The Mirage Jobs-Archive enablesyou to manage already processed jobs perfectly. By simply pressing the Print button, all Jobs stored within the archive can be printed again atany time. TheMirage Jobs Archive is ideal not only for an uncomplicated reprint, forexample of editions of your works, it also allows you, as a Print Service Provider, to make test prints for customers and recreate those prints after his final approval in any quantity requested.
Certainly you are free to determine which jobs you want to save for later reprint aswell as how long those jobs shall be archived.
No length limitation
Mirage has no limit. Print panorama images with ease and without any limit. Print 30,000px and more. If Adobe® Photoshop® can handle it, the Mirage Photoshop Plug-in can print it!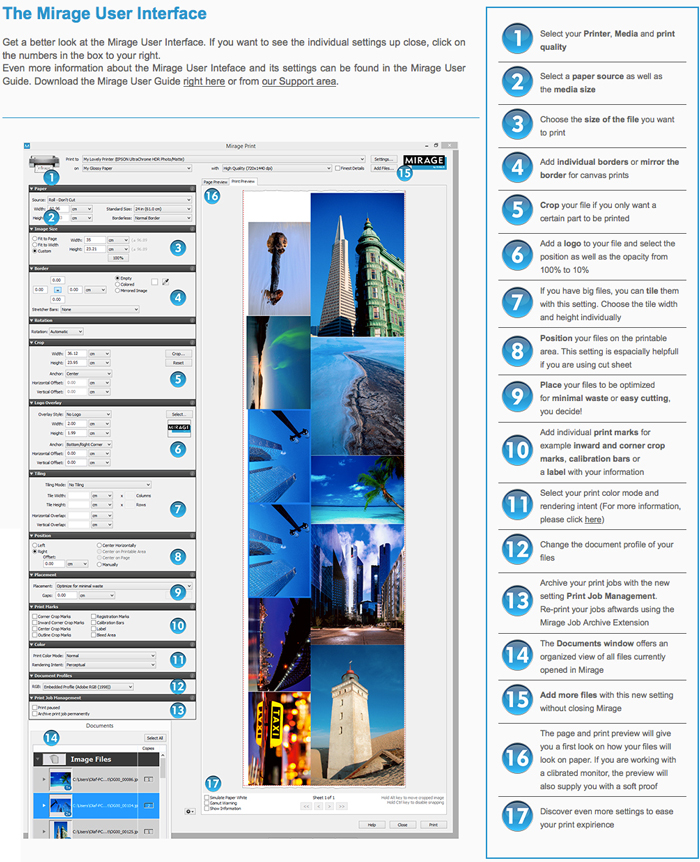 Small Studio Edition
Supported printers: Epson Stylus Photo R2880 & R3000, Epson SureColor P6xx
____________________________________________________________________________________
IMPORTANT ORDERING INFO: Software is ONLY offered as download + TAN Code on our online store. For boxed or dongle versions please call 800-COL-RMGT x104
Download + TAN Code (TAN code (license) is tied to one specific Mac/PC)
Boxed Version + TAN Code
Boxed Version + USB Donlge (USB dongle is the license - so it's not tied to one particular Mac/PC)