basICColor catch5 QC
THE solution for color measurement and quality management
basICColor catch QC is the complete solution for all tasks of color measurement, quality control, PSO certification, quality analizing and it is the basis for ICC profile creation and optimization. basICColor catch QC is an universal and flexible ool to measure linearization-, profiling- and quality assurance targets with a variety of measuring instruments. basICColor catch QC is highly automated and can be configured for any measurement and quality control task so that one(!) mouse click is enough to start the measurement, including data storage and analysis. NEW! Access to basICColor dropRGB, basICColor CMYKick, basICColor match patch and basICColor spoTTuner with direct data transfer. NEW! basICColor statistics allows continuous monitoring of your color printing system system.
---

Flexibility
Due to the templates and job structures of basICColor catch the user has a maximum of flexibility in the configuration of the measurement and quality control tasks. Whether it's proof control using media wedges, checking of prints on PSO compliance or long-term monitoring of printing systems - everything is comfortable and easy.
---
Measured data types
basICColor catch 4 enables the saving of spectral data (up to 16 spectra) for a spectral ICC profile creation, of densities for process control, Lab values, or exporting dot gain values ​​for the correction of dot gain in the RIP or averaging the spectral measurement data set.
---
Measurement devices
Support of many instruments from different manufacturers. NEW: measuring conditions M0, M1, M2 meeting ISO 13655 with suitable measuring devices like Konica Minolta FD-7, X-Rite i1Pro2, i1iSis
---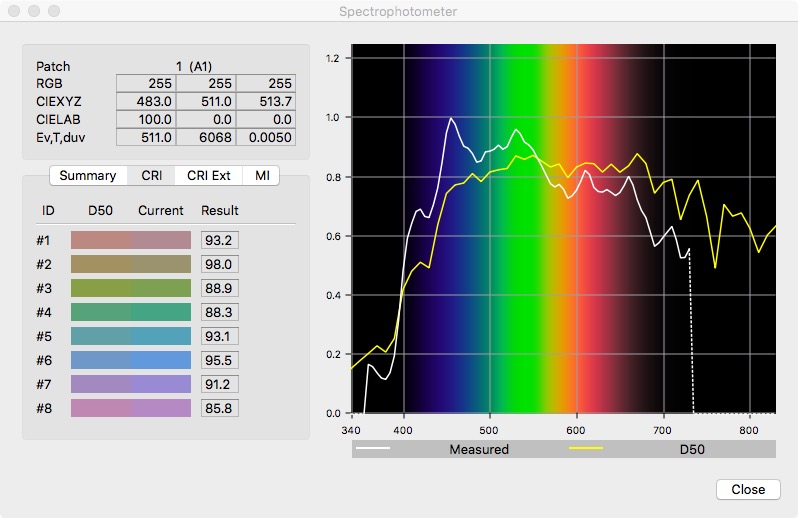 Functions
Software for the measurement of multiple output targets: linearization, profiling and quality assurance targets
Support for industry standard targets: IT8.7, ECI2002, Ugra / FOGRA, ECI / bvdm Gray Control Strip, IDEAlliance ISO12647-7 Color Control trip, Harlequin Linearization Target, PSO and DNA test forms, Visual Print Reference 10 step wedge, ColorChecker, ColorChecker DC, Digital ColorChecker SG, etc.
Quality control for all color tasks, for example Proofing, fine art printing, digital production printing
Quality control for printing according to ISO 12647 - prepare for PSO certification
Statistical analysis of all color control jobs
Support of the following instruments: basICColor: DISCUS, SQUID3; Barbieri: SpectroLFP, SpectroPad; ColorPartner: xy-table ColorScout A+ with different Spectrophotometers; Datacolor: Spyder3 SR; Gretag: Spectrolino, SpectroScan; Konica Minolta: FD-5, FD-7, FD-9 (even with optional AutoFeeder), CM-26x0; Techkon: SpectroDens, SpectroJet; X-Rite: 530, SP6x, i1Display Pro, i1Pro, i1Pro2, i1iO, i1iO2, i1iSis, i1iSis UV-cut, i1iSis2.with different types of light, based on the measurement data averaging spectral data, importing of external data.
Storage of spectral data (up to 16 spectra / measurement), densities, dot gain or colorimetric values ​​with different types of light, based on the measurement data averaging spectral data, importing external data.
Minimum System Requirements
Windows:
Windows 7 (32 - and 64-bit)
min. 4GB RAM, min. 2GB free hard disk space
Graphics card with at least 1280x1024 pixels and 24-bit color depth
serial or USB port (depending on colorimeter)
Spectrophotometer and / or colorimeter
Macintosh:
Mac OS X 10.7*
min. 4GB RAM, min. 2GB free hard disk space
Graphics card with at least 1280x1024 pixels and 24-bit color depth
serial or USB port (depending on colorimeter)
Spectrophotometer and / or colorimeter
*NOTE: the Konica Minolta FD-9 instrument requires OS X 10.9 or higher